Motto
Suche mit forschendem Geiste,
finden wirst du sogleich
zu aller Bildung den Schlüssel
(J.W. von Goethe)
Johann Wolfgang von Goethe, 1749-1832
---
Introduction
Volkhard Wehner is a historian, linguist and horticulturist. After university studies in Germany and Australia and a career as a librarian at the National Library of Australia and at Monash University and a stint as a lecturer at RMIT, horticultural studies at Burnley College and work as a part-time horticulturist in the Dandenongs he is now a freelance writer specializing in biography and local, gardening and art history.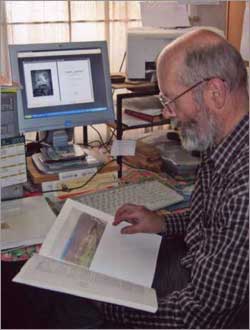 ---
Mission
To bring back from virtual oblivion the story of the achievements of some notable Australians whose contributions to civilization and human society—often quite significant—have largely been belittled, ignored or forgotten. This is to counter the present trend to make heroes of individuals whose claim to 'fame' appears to be largely prompted by ambition, greed or bad behaviour and whose delusions of self-importance have in no way contributed to the betterment of mankind.
---
Main Interests
Volkhard's previous publications have focussed largely on 'micro events' in Australian and especially Victorian history, touching on exploration, early settlement, German immigration, Australian art and the lives of artists, and of the history of gardens, gardening and gardeners. Several displayed a special interest in the history of the Dandenong Ranges (a hilly region to the east of Melbourne). Projected publications will be more of a biographical and autobiographical character. A special interest will be people and events surrounding the two world wars.
| | |
| --- | --- |
| Website visitors to date: | |