New and recent books by Volkhard Wehner
Contact the author if you wish to purchase any of these books.
A Forgotten Hero of the Great War:
The Life and Death of Lt-Col L.F.S. Mather DSO
Published in 2015
160 pages; illustrations and maps.
Price $25 plus postage
ISBN 978-0-9775248-5-3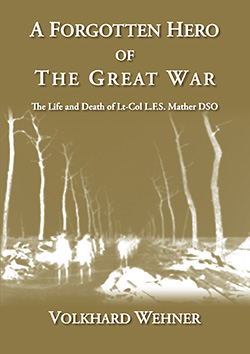 This is the story of Leslie Mather DSO, an officer in the Australian Engineers, who served with distinction from the landing at Gallipoli right through the terrible three years of trench warfare on the Western Front.
He was amongst the first to sail for the European theatre of war and one of the last to leave Gallipoli. Though seriously wounded at Pozieres, he survived. But only barely...
But then, eight weeks after the Armistice, his life ended. His terrible war-time experiences caught up with him. His was one of over 60,000 Australian lives that were lost.
In spite of an acute lack of first-hand information, this is a remarkably complete and detailed story of a short and honourable life of a brave and resourceful Australian, drawn against the background of his gifted family and the Great War.
Links
Australian War Memorial
Engineers War Diaries
Honours
Nominal Role
---
Heimat Melbourne; A History of the German-Speaking Community of Melbourne – 1855-1865
Published in 2010
c. 350 pages
Price $30 plus postage
ISBN 978-0-646-53269-1
This history of the German-speaking community of Melbourne in the very early life of the Colony of Victoria offers for the first time a comprehensive overview of the enormous contribution made to Victoria, and in particular to Melbourne, by German-speaking immigrants.
Although forming less than 2% of the total population of Victoria, and even less of Melbourne, the contribution of such illustrious scientists as Dr (later Baron von) Mueller, Professor Neumayer and John Kruse, of artists like von Guerard, Grosse and Hennings, of architects like Kawerau, Kuersteiner and Schneider, of composers, conductors and musicians like Elsaesser, Siede and Sprinckhorn, of doctors, newspaper editors, educators and writers, of explorers like Ludwig Becker, William Brahe and Hermann Beckler, of numerous artists, scientists, writers, pastors and businessmen is almost unimaginable. Yet, the aftermath of two 20th century world wars has led to most of them being forgotten, their great contributions now largely unknown and un-acknowledged.
The 15 chapters of this 350-page book cover the history of Germany between 1815 and 1850, immigration to Australia, life in gold-time 'Marvellous Melbourne', German associations (Vereine), the German press of Melbourne, religious institutions and the Lutheran church, schools and education, medical services, the German business community, music, art and architecture, literature, the theatre, science and technology, the German contribution to exploration (Burke and Wills), and an assessment of the community's leaders.
The painstaking work of 35 years of research by this writer has at last brought together much information, adding details to many forgotten lives, and attempting to clear up many misunderstandings.
lIlustrated with maps, photographs and drawings, there are also extensive notes and bibliographies.
Some opinions about Heimat Melbourne...

'Volkhard Wehner has written a fair and extremely well-informed history of the German-speaking immigrants in Melbourne from 1855 to 1865. The book clearly demonstrates the ability Wehner has brought to the task, and earns him the reader's profound respect. It appears that this writer is uniquely qualified to show the part played by his fellow countrymen in Victorian history…
Finally, the book provides a valuable historical background for the descendants of some of the German immigrants to Australia by assembling their family stories, that alone making it a valuable contribution to understanding part of our genealogical story.'
Margaret Brughera, International Settlers Group, GSV, Newsletter
'Although the Commonwealth of Australia has been operating for over a century, people are constantly discussing what is different about their own capital city. I believe…[this] book provides evidence that what makes Melbourne different is its multiculturalism from the earliest days of the European settlement as illustrated by the largest non-British group, the Germans...
There was a time when the non-Anglo-Celtic contribution to Australia was largely swept under the carpet. Generations of historians will be grateful to … the publisher for documenting the achievements of German-Australian pioneers, "conformist, pliable, adaptable" but distinctive, and contributing to nation-building…'
Emeritus Professor Michael Clyne, Public Address, 2010
'As a reviewer, I am facing the problem that this book Heimat Melbourne is almost impossible to summarise. Its 285 pages of text are packed with important and interesting historical information relating to Germanic and Wendish settlement here in Melbourne and at the end of the book are an additional 21 pages of end-notes, 13 pages of select bibliography and 12 pages of index. It is clear that this book is the result of 35 years of steady and exhaustive research…'
John Noack, Wendish News (Wendish Heritage Society Australia)
Links:
There are numerous links to be found under search terms like Germans, Melbourne, Victoria, Immigration, Burke and Wills, etc.
Some useful ones include the following:
Wendish Heritage Society of Australia
German Australia
The Encyclopedia of Melbourne Online
Germans in Victoria – 19th Century
---
A Melbourne Doctor and his Generation: Leonard Bell Cox, 1894-1976; Neurologist, Orientalist, Art Collector, Gardener
by Volkhard Wehner (With contributions by Neurology Professor Mervyn J. Eadie and Historian Monica Wehner)
Published in 2004
c. 570 pages; illustrations and maps
Price $30 plus postage
ISBN 978-0-97752248-4-6
This is a monumental biography of a remarkable Melbourne man—a pioneering neurologist, art collector and researcher, National Gallery chairman and rhododendron specialist.
The authors wrap the life of Leonard Cox around the cultural, scientific and social life of Melbourne during the first three quarters of the 20th century. Among the highlights of the book are substantial chapters on Cox's experiences as an AIF doctor in France during World War I, his career as a physician and self-taught pioneering neurologist from the early 1920s onwards, including a historical summary of medical life in Melbourne and Cox's work at the Baker Institute during its formation, as a senior consultant at the Alfred Hospital and neurology lecturer at the University of Melbourne, his activities as a collector of oriental art and assumption of a leading role as the National Gallery of Victoria's honorary curator of oriental art and later as chairman of trustees during the time the National Gallery was built in St Kilda Road, Melbourne. And during his years of retirement Cox continued to play a leading public role by participating in rhododendron culture and research at the National Rhododendron Gardens at Olinda.
Well received, the book has been reviewed or mentioned in journals as divers as the Journal of Clinical Neuroscience; the Royal Historical Society of Victoria's History News; the journal Health and History; the journal Qi (annual publication of the Australian Chinese Medical Association); the journal Gallery issued by the National Gallery of Victoria, the National Trust of Victoria's Trust News, as well as several other publications.
Not a specialist, technical or medical book, it is aimed at the general reader with an interest in the history of medical, cultural and social life in Melbourne in the 20th century.
Some opinions about A Melbourne Doctor...

'Volkhard Wehner has written … a painstaking biography that will give pleasure to the many in the Melbourne medical and arts communities who knew Cox and shared his world…'
Professor Janet McCalman, Health and History, 2005
'An interesting read…'
Dr Matthew Kiernan, Newsletter of the AAN, 2005
''[This book] should appeal to anyone interested in the Gallery's [i.e. the NGV's] history, and Melbourne's artistic and cultural life in general.'
Dr Alison Inglis, Gallery, December 2004
---
A gallery of books and pamphlets published by Volkhard Wehner
Note: These publications are now out-of-print
Click on the thumbnail images below to view a larger image and more information.
---
Work in progress
Letters from the Front: Captain Leonard Cox with the Australian Army Medical Corps in World War I
Through the Eyes of a Child: War and Post-War Years in Saxony